BeCum A Lelu Love'R for Free Right Now!! :)
This is just a test page, so I'm not sure how long I'm going to leave this up,
but if you're still seeing this message then make sure you read the whole thing now,
because the offer might be a lot different or completely gone by the time you CUM back ;)
For a limited time, I'm going to be trying something new, giving you access
to some of my favorite all time porn videos that I've ever done
(and I've done THOUSANDS over the years now).
All you have to do is join my LeluLove'Rs email list, and I'll give you the secret
password to THIS page that will have all the goodies: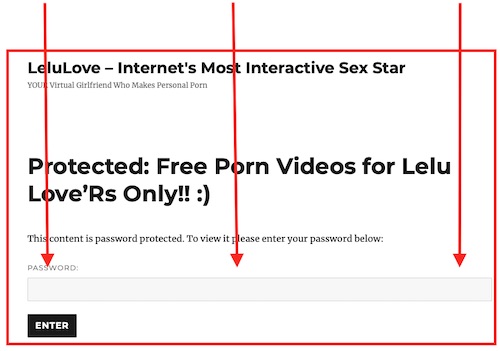 Watch FULL Length Videos Like This:
And if you hurry, you're going to get access to one of my all time favorites that
I did as the "Lelu Twins" :) Watch the FULL length video of this now before I
swap it out with the next one in the Lelu Love'Rs series...
Another Free Bonus:
PLUS, you're still going to get my full UNCUT and UNCENSORED Bio that includes my
Top 20 XXX Pics all in this sexy little eBook for free too!! :)
Now TWO very important things to remember to take advantage of this free offer:
1. You must use a real email address, because you have to confirm your free
subscription before you get any of the goodies.
2. You should use your actual email address that you check on a regular basis,
because every time I update a new video on the special Lelu Love'Rs page,
the secret password will change and be updated too and only sent out to
your original email address.